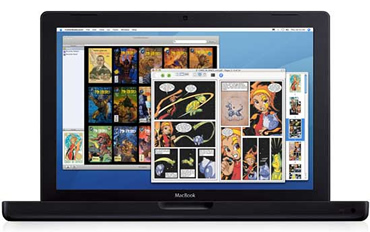 ComicBookLover
Features
ComicBookLover enables you to easily to view and collect digital comics on your Mac.
Features include:
Read comics in single page mode, or Western and Manga double page mode

Auto-sense over-sized pages and auto-resize facing pages so they fit neatly

Full screen mode

on-screen display controls

dual-display support

use Apple Remote

makes use of sudden motion sensor in newer laptops

Simple keyboard and mouse controls

Edit comic information in any language (English, Japanese, etc.)

Auto-completion of keywords, and autofill, speeds up editing

Create lists and smart lists of your favourite comics

Bookmark your favourite chapters and pages

Import existing comics into ComicBookLover library

Support for comic archive formats: CBZ, CBR, PDF, Folder of images

Adjust colours, sharpen images, scale, rotate and re-order page viewing

Tag comics with ComicBookInfo, an open standard for tagging digital comics with metadata

Spotlight searching of comic metadata

Use an Apple Remote to view comics in full-screen mode

Supports laptops equipped with sudden motion sensor
Digital Comics
101
Digital comics are simply folders of images which have been compressed with Zip or Rar (both common archiving tools). This makes it easy for comic creators to create their own digital comics for distribution.
These comic archives are also known as CBZ and CBR files, and are considered the de facto standard for digital comic distribution, in a similar way to how the MP3 format is associated with digital music.